Vishay RPS500DH Series Screw Termination Thick Film Panel Mount Resistor, 1Ω ±5% 500W
RS Stock No.

169-821

Manufacturer

Vishay

Mfr. Part No.

RPS0500DH1R00JB
Product Details
500W Thick film non-inductive Power resistors - RPS500DH Series
Thick film non-inductive power resistors
Use with a heatsink to achieve high power rating of 500W at 70°C
Withstands severe pulse overloads
Easy to install
Diagonal connections
Low thermal emission
| | |
| --- | --- |
| Power At 70°C | 500W with heatsink |
| Momentary Overload | 1000W for 10 seconds |
| Resistance tollerance | ±5 % |
| Temperature Coefficient | ±150 ppm/°C |
| Operating Temperature | -55 → +125°C |
| Thermal Resistance | 0.11 °C/W |
| Limiting Element Voltage | 5 kV |
| Dielectric Withstand Voltage | 12 kV |
| Insulating Resistance | >106 MΩ under Uins = 500 VDC |
| Maximum Inductance | <50 nH |
| Length | 60 mm |
| Width | 73 mm |
| Height | 26 mm |
| Weight | 250 g ±10% |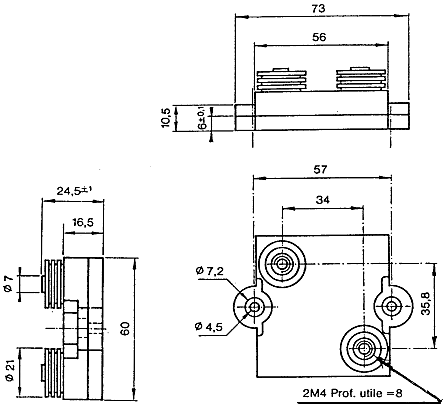 Dimensions
Sfernice series
RCH 5
RCH 10
RCH 25
RCH 50
L
16.6
19
28
50
W
9
11
14
15.5
H
16.4
20.6
27.5
29.4
P
10.2
12.7
18.3
33
F
11.3
14.3
18.3
39.7
T
12.5
15.9
19.8
21.4
S
5.3
5
7.7
8
ØD
2.4
2.4
3.2
3.2
M2
M2
M3
M3
Key Characteristics
Overload duration
RCH25
RCH50
BDS100
BDS250
1 sec.
375W
750W
200W
1500W
2 sec.
300W
600W
150W
1250W
5 sec.
125W
250W
125W
1000W
10 sec.
75W
150W
100W
750W
For each degree the ambient temperature is raised above 25°C, there is a reduction by 1% of the permitted overload.
The key characteristics table is only applicable to resistors suitably mounted on a heatsink with a thermal resistance of 1°C/W for 25 and 50W ratings, 0.7°C/W for 100W and 0.28°C/W for 250W ratings.
This data is only valid when thermal grease is used and the resistor is correctly tightened by mounting screws.
Tightening Torque
RCH25
RCH50
BDS100
BDS250
0.7Nm
1Nm
2Nm
2Nm
Specifications
To find a similar product, based on selected attributes, click the green button
Resistance
1 Ω
Power Rating
500W
Series
RPS500DH
Tolerance
±5%
Technology
Thick Film
Termination Style
Screw
Minimum Operating Temperature
-55°C
Maximum Operating Temperature
+125°C
Minimum Temperature Coefficient
-150ppm/°C
Maximum Temperature Coefficient
+150ppm/°C
Temperature Coefficient
±150ppm/°C
Customer reviews
Add a review - Log In
Alternative
Vishay RPS500 Series BO15 Screw Termination Thick Film Panel Mount Resistor, 1Ω ±5% 500W
Compare Alternative
Technical data sheets
RS Components

Statement of conformity

This statement confirms that the product detailed below complies with the specifications currently published in the RS media and has been subject to the strict quality conditions imposed by RS Components' internal management systems. Furthermore and where applicable, it confirms that all relevant semiconductor devices have been handled and packed under conditions that meet the administrative and technical requirements of ANSI/ESD S20.20 and EN61340-5-1 electrostatics control standards.

| | |
| --- | --- |
| RS Stock No. | 169-821 |
| Name | Vishay RPS500DH Series Screw Termination Thick Film Panel Mount Resistor, 1Ω ±5% 500W |
| Manufacturer/Brand Name | Vishay |
| Mfr. Part No. | RPS0500DH1R00JB |

The foregoing information relates to product sold on, or after, the date shown below.

RS COMPONENTS

RS Components Pte Ltd Robinson Road, P.O. Box 1582, Singapore 903132
Alternative for Vishay RPS500DH Series Screw Termination Thick Film Panel Mount Resistor, 1Ω ±5% 500W