Everything You Need To Know About Spanner Sets | RS Components
What are Spanner Sets?
Spanner sets
typically consist of a selection of different spanner sizes, bought together as a single kit that offers users a full range of options and on-hand flexibility when tackling nuts and bolts of any size.
The best spanner sets are usually supplied in a box, case or foam tray for protection and convenience, and will generally be a more cost-effective way of achieving full flexibility than buying differently sized tools individually. The number of individual pieces provided in any complete spanner set can range from two or three pieces up to fifty or more, including numerous types of
spanner sockets and other accessories.
Individual spanner sets most often tend to contain the same type of spanner (e.g. ratchet or combination spanner) offered in a range of varying sizes. They're one of the most common tool types found in work kits and DIY collections, and are used daily in a wide range of applications by professionals and odd-jobbers the world over.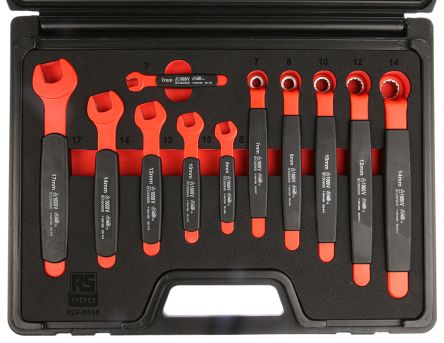 What are Spanner Sets used for?
Spanner set uses are many and varied, but all jobs for which a spanner is required will generally involve loosening or tightening nuts and bolts of some description. The precise function and application of a particular spanner set will depend on the job in hand, which in turn is dictated by the type and size of spanner required for a given bolt or nut.
In this guide, we'll run through some of the more widely seen types and sizes of spanner sets, what the different combinations might best be used for, and which leading brands you should look out for when sourcing equipment for your next tool kit upgrade.
Different types of Spanner Sets
There are numerous types of spanner sets available from manufacturers, suppliers and wholesalers worldwide. In this section, we'll explore some of the most widely used varieties, and which kinds of jobs each type is generally used for.
Click here to shop for Ratchet Spanner Sets

Shop for Ratchet Spanner Sets

Ratchet Spanner Sets

Ratchet spanner sets are often among the more expensive types of spanner kits, but their handy added functionality makes them easily one of the most popular designs found in both professional and enthusiast tool kits the world over.

The main advantage of a ratchet spanner over a non-ratchet or regular type spanner is that, where space for a full rotational arc is limited, they don't need to be removed from the nut and realigned in between turns. The ratcheting mechanism allows for free rotation of the spanner in one direction but not in the other - this means you can tighten a nut clockwise, for example, and then pull the spanner back in an anticlockwise direction to begin another clockwise rotation without ever lifting it off the fitting.

Nearly all ratchet-type spanner sets will allow this feature to be deployed in both directions, either by flipping the spanner over or by adjusting a small lever on the handle or head of the unit. Spanner ratchet sets are usually sold in open-ended, flare or ring head configurations, depending on the types of fixtures you need to tighten or loosen.

Click here to shop for Box Spanner Sets

Shop for Box Spanner Sets

Box Spanner Sets

A box spanner set - sometimes called a tubular spanner set - is easily identifiable due to the elongated cylindrical shape of the tools. These kits are essentially designed as a variety of rounded metal tubes, usually with a hexagonal opening at each end to be placed over a nut. As a result, they contact all sides of the nut, providing a stronger grip than most jaw-type spanners.

By passing a metal rod (a 'T-bar' or 'Tommy bar') through two holes positioned across the diameter of a box spanner, users can rotate the tube in a one- or two-handed motion, similar to opening a tap. Most box spanner sets are sold with a suitable T-bar already included, although it is possible to buy replacements separately (you'll need to check the correct gauge for your spanner set first).

The elongated shape of box spanners makes them very handy for accessing nuts that are deeply recessed or otherwise in difficult-to-reach places, and the sliding design of most Tommy bars lets users make best use of any available space for achieving sufficient torque.

Click here to shop for Ring Spanner Sets

Shop for Ring Spanner Sets

Ring Spanner Sets

A ring spanner set functions much like the box spanner sets described above, except that ring spanners are designed in a more standard spanner layout; that is, they're generally constructed as a single-piece metal bar that turns side-on to a nut, rather than from above. The ring spanner's connection with a fastener is very similar to that of a box spanner. The heads on a ring spanner set - each piece usually has a head at each end - are formed as a single closed loop containing a machined profile, which contacts the nut on all sides simultaneously. This offers a very strong grabbing force and makes it less likely to slip.

The potential downside of ring spanner sets is that the tools must be lifted and replaced on the fastener once the full turning arc has been exhausted. However, they can often be manoeuvred into smaller spaces than box or socket spanners, particularly if the design features a 'cranked' or offset head design.

Click here to shop for Socket Spanner Sets

Shop for Socket Spanner Sets

Socket Spanner Sets

A socket spanner set essentially offers the same functionality as a box spanner, except the kits tend to come as a single spanner shaft with multiple interchangeable heads or sockets. These too contact the fastener on all sides, but the torque is applied via the shaft, as opposed to a Tommy bar.

The shaft or 'key' will feature a small recess (or sometimes protrusion) known as a drive socket at the head end - usually square or hexagonal - into which the various differently sized sockets are affixed. Socket and spanner sets very often feature a ratchet system, meaning they don't have to be lifted off the nut between turns. Socket and ratchet spanner sets are available for almost any type of nut or fastener, so it's important to check you've got the right setup for your needs when purchasing a kit of this kind.

Click here to shop for Combination Spanner Sets

Shop for Combination Spanner Sets

Combination Spanner Sets

Spanner combination sets, as the name implies, tend to offer a wider range of head types for tackling various sorts and sizes of nut and fastener with a single tool kit. The parameters of any given combination kit will vary widely among different manufacturers and product lines.

A particularly common configuration for spanner or wrench combination sets is a kit that offers both ring spanner and regular jaw-type functionality, either as two separate collections within the same box or as a single set with different head types at either end.

The best combination spanner set for your needs will of course depend entirely on the application you're intending to use it for. You may wish to consider kits that offer some additional handy features, such as ratchet combination spanner sets, if you're likely to be working in confined or awkward spaces.

Click here to shop for Imperial Spanner Sets

Shop for Imperial Spanner Sets

Imperial Spanner Sets

An imperial spanner set, rather than denoting a particular function or a specific type of head or shaft design, is simply a spanner set of any kind that has been constructed for fasteners defined by imperial measurements (inches and fractions of inches, rather than millimetres).

These spanners are still widely used as a standard in the US and elsewhere, and it's not at all unusual to encounter nuts and other fasteners that are still defined by imperial measurements during routine tasks today. You can usually purchased either ring-type or jaw-type imperial spanner sets, depending on the specific application you're likely to need them for.

Click here to shop for Metric Spanner Sets

Shop for Metric Spanner Sets

Metric Spanner Sets

Metric spanner sets are designed to tackle nuts and fasteners defined by millimetre sizing (as opposed to imperial inch-based kits for older fittings).

As the more common standard for modern applications, spanners of this sort are widely available today with a full range of features and head types - you'll often find them sold either as metric combination spanner sets or metric ratchet spanner sets, depending on the degree of flexibility and functionality you're looking for.

Click here to shop for Adjustable Spanner Sets

Shop for Adjustable Spanner Sets

Adjustable Spanner Sets

Adjustable spanners typically feature a standard layout open-ended head design, but with an additional function that allows for manual opening or closing of the spanner's jaw via a rotating cylinder driven by a screw. The familiar 'monkey wrench' design is essentially a type of adjustable spanner, although many tools can be found in this range that are considerably smaller and lighter than a typical heavy-duty plumbing wrench.

The adjustable mechanism enables a single spanner to tackle numerous gauges of nuts and fasteners, which can be handy for smaller portable tool kits where it's always helpful to save on space and carry weight. For this reason, most adjustable wrench kits will feature fewer individual pieces than non-adjustable sets, with each piece being able to grip to a much wider range of fasteners. Better quality adjustable spanner sets feature sturdy self-locking mechanisms that prevent the adjustable portion of the jaw from working itself loose during rotation, which can be a fairly common complaint about less well-made versions of this type of spanner.

Click here to shop for Flare Nut Spanner Sets

Shop for Flare Nut Spanner Sets

Flare Nut Spanner Sets

In terms of functionality, flare nut spanners offer a combination of features seen on both ring spanners and standard jaw spanners. They offer almost the same tight-gripping multi-surface contact as a ring spanner, except they feature a cutout portion in the circumference of the head loop - this is usually offset by 15 degrees, making the flare spanner look similar to a jaw-type spanner from a distance.

The cutouts on a flare nut spanner set allow the head to be placed over fasteners that are permanently attached to a hose or tube - this wouldn't be possible with a full ring head. In sacrificing contact with one of the six sides of a nut, the flare spanner gains the ability to access trickier-to-access fasteners such as brake line fittings and fuel hose nuts.

Click here to shop for Flexible Head Spanner Sets

Shop for Flex-Head Spanner Sets

Flexible Head Spanner Sets

A flexible spanner, often shortened to flex-head, denotes an additional feature of some ratchet or socket tools that allows for the head of the spanner to swivel through a range of positions and angles. In practical terms, this simply means that a flexible head spanner set can be used to access fasteners in a much wider variety of tricky or confined spaces, because the user can approach the nut from a much broader array of positions.

Widely used in plumbing and automotive settings, any spanner type can have a flexible design, although flex-head ratchet spanner sets and flex-head socket spanner sets are among the more popular product types in this range. It's also common to find combination spanner sets with flexible heads.

Click here to shop for Open Ended Spanner Sets

Shop for Open Ended Spanner Sets

Open Ended Spanner Sets

Open-ended spanners are perhaps the archetypal tool type we're all familiar with - the simple, often one-piece jaw spanner that's useful in all manner of applications. In this design, two opposing jaws are set in a fixed and open position at varying distances/gauges apart, depending on the size of spanner in question. As a cost-effective utility tool, most open-ended spanner sets will offer a wide range of sizes and gauges in a typical kit. Sizes might range from 4mm to 50mm (5/32" to 2"), and handle lengths can vary enormously, ranging from 10 cm to 50 cm or more.

Click here to shop for Insulated Spanner Sets

Shop for Insulated Spanner Sets

Insulated Spanner Sets

An insulated spanner set might feature any of a range of head types and additional functions for various intended applications, but what they all have in common is that they're intended specifically for use with fasteners in electrical components or circuits.

Insulation against electric shock is usually achieved through a plastic or rubber coating applied across the full length of the insulated spanner handle (and sometimes around the head itself). Open-ended spanners are the most common type found in fully insulated spanner sets, and quality tools marked with the 'VDE' stamp have been certified in line with European safety standards for safe use on live wires up to 1000 V (A/C).
Spanner Set Brands and Manufacturers
There are as many different manufacturers and spanner sets brands available on today's market as there are varieties of kits and configurations. In this section we'll look briefly at some of the best-known spanner set manufacturers, to give you some suggestions of makes and ranges to look out for when looking to purchase high quality at sensible prices.
| | | |
| --- | --- | --- |
| Click here to shop for Bahco Spanner Sets | Click here to shop for Facom Spanner Sets | Click here to shop for GearWrench Spanner Sets |
| Bahco Spanner Sets | Facom Spanner Sets | GearWrench Spanner Sets |
| Bahco is a leading name in professional-grade tools, with a reputation for design and manufacture that meets exacting user standards for ruggedness, performance and ergonomics. Bahco combination spanner sets are available in open-ended, ratchet and adjustable configurations, to name just a few. | Facom is a France-based brand name recognised worldwide. It's known for high quality tools that get the job done at a highly competitive price, and its combination spanner sets are popular choices for both home users and professionals due to their simplicity of use and solid design mechanics. | Gearwrench is a US company that has quickly become the go-to name for many professional automotive mechanics. It made its name with the patented five-degree ratcheting wrench in the mid-1990s, and Gearwrench spanner sets are used widely today with an excellent reputation for speed, strength and access. |
| Click to shop for Bahco Spanner sets | Click to shop for Facon Spanner sets | Click to shop for GearWrench Spanner sets |
| Click here to shop for Gedore Spanner Sets | Click here to shop for Wera Spanner Sets | Click here to shop for Stanley Spanner Sets |
| Gedore Spanner Sets | Wera Spanner Sets | Stanley Spanner Sets |
| Gedore started life as a German-based company in 1919, but expanded to full international operations during the 1960s and has since become one of the world's largest hand tool manufacturers. Gedore spanner sets, like most of their hand tools, are renowned for their sturdy build quality backed by considerable in-house expertise. | Wera is yet another German brand known for lasting quality and precision, but they're also seen as one of the most innovative designers of hand tools on today's market. They specialise in screwdriving and torque tools, including Wera spanner sets - and frequent innovations, such as the Zyklop ratchet and the Joker open-end wrench, have made them a go-to manufacturer for fans of cutting-edge, user-friendly design flourishes. | Stanley is, of course, a name that needs little introduction: its tools have been synonymous with reliability, innovation and value for over 170 years, making them one of the most popular brand names today among both hobbyists and professionals alike. Stanley spanner sets, like most of its extensive catalogue of hand and machine tools, are known for their ruggedness and consistency of build quality. |
| Click to shop for Gedore Spanner sets | Click to shop for Wera Spanner sets | Click to shop for Stanley Spanner sets |
Summary
Today's market for spanner sets of all types is incredibly extensive - and, as ever, the ideal product for you will depend very much on what sorts of jobs you're likely to be tackling. Specifically, it will depend on the sorts of fasteners and nuts you're most often going to be dealing with in your day-to-day work, either at home or on site.
We're always happy to offer expert guidance and advice on whittling down extensive product lines to a few key products that are ideally suited to your individual needs. For any such assistance, or for all general help and information on any of the spanner sets and sizes mentioned above, please feel free to contact a member of our support team today.
Top selling Spanner Sets
See below for a selection of some of our best selling spanner sets. To learn more about the product, click the image or the product title to be taken to the products page within our website.